Michael De Santa in GTA 5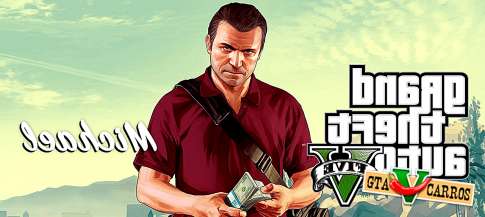 Michael de Santa is one of third protagonists of GTA V. Before game events he was a robber on a pension, he finished his career in the Midwest of state of North Yankton. Michael is 48 years old but we can't be sure about ages of Michael. Some sources tell that his true age is 45, different sources tell that it's 48. Also he has a wife and two adults children: Tracy and Jimmy.
He is the oldest character in the game and he likes drink whiskey alone for watching a good film.
He had to change his name and move out in Los Santos, because he had a bad criminal career.
The true name of Michael is Michael Townleigh.
On this article you will find out some facts about Michael's family and Michael's de Santa biography.
Biography of Michael
He was born on 6th of July in 1968s. He grew up into a poor family. He got a bad behavior, because his dad was alcoholic and exposes to him violence. Soon dad decides to leave the family. Mom composed different false stories about dad and why he escaped them. When Michael was a young guy he changed the secondary school where he was the best at football. He often was in local newspaper. All students consider Michael the local celebrity. But he had to complain this, because he got an injury.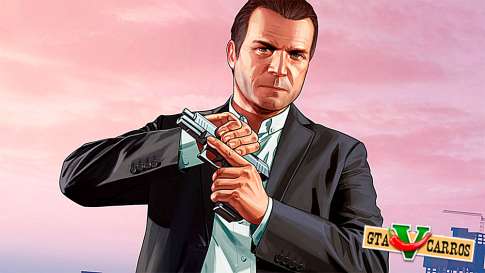 After this he made the first loot where he got $10000. When Michael was only 20 he already visited in prison 2 times. By the way he was able to achieve and improve his robber skills.
In the future he will work with Lester, who makes really exiting plans of robbery.
Lester helped to Michael arranged crimes. But one day Michael met Trevor Phillips who violently killed man with signal pistol. Then they together throw away the body in river. After this accident Michael made offer to Trevor become a team. Trevor Phillips is the second protagonist. Also, we will met the future Michael's wife Amanda.
In 1968s Michael and Trevor Phillips decided to work together. They were really good team. But they always changed the places for living. Also, they were without cash, because Trevor often freaked out and killed innocent persons.
Michael's family
His future wife was a strip – teaser artist. Used Michael's money he bought chest implants for Amanda that she will work as a prostitute. It was the first step to start his career in a new business.
Later a few times Amanda became pregnant. After this event Amanda and Michael decided to marry each other. They also stay live in the park of Traders.
Story - Line
After all this Michael starts to understand that he should be more careful and protect his family.
This news was nervous for Trevor.
Few years later Trevor met brother sniper. His name is Brad. He became the partner of the team. But they often have differences between them. Trevor told that Brad tried to dispose of Michael.
In 2004s Michael had a chance start new life without criminal with a lot of money. But he had to rid of Trevor and gives information about him to FSSB agent. They made a deal with each other.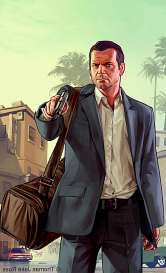 After this Michel and his family got new passports. Now their surname is de Santa. What about Michael`s house? It was a good opportunity for Michael to start new life with his wife and children plus receive big money and move out with the family in new big cottage
It was hard time for Michael without criminal works. He starts to spend time with alcohols and doesn't pay attention for children. Also, Michel started two-timing his wife with different women. Amanda became enemy for her husband. She spends a lot of money on expensive clothes and plastic operations. All those things were horrible, so he had to visit psychologist. He really needed to help. Also the bad new was that his wife Amanda deceived Michael with her yoga trainer. In consequence he will try to damage trainer's house.
Michael from gta 5 is a person who likes to spend times deep in himself and analyzes his past. He hates when Amanda tries to prove to him different ideas which isn't likes his imagine. Also he is quit egoistical and bighead. He confessed that sarcasm it's only one thing which stayed with him. He made a lot of mistakes, which damage his family. He is unpredictable sometimes he can be good or bad. In conclusion, if we will compare him with different characters on GTA V, Michael looks like a positive protagonist than negative.